7th ICAR - IIRR Foundation day on December 18, 2021
Virtual User's Training cum Workshop on AICRIP Intranet functionalities (www.aicrip-intranet.in) during 15 – 17 February, 2022
As part of the 'Azadi Ka Amrit Mahotsav', ICAR-Indian Institute of Rice Research (ICAR-IIRR) has successfully conducted a Virtual users training cum workshop on AICRIP Intranet functionalities (www.aicrip-intranet.in) during 15-17 February 2022. This programme was organised by ICAR-IIRR in association with Society for Advancement of Rice Research, Hyderabad.
The training program was targeted to sensitise AICRIP Co-operators on data uploading, analysing and generating the reports through AICRIP Intranet with live demonstrations and discipline-wise hands on training sessions were also conducting as part of the training cum workshop. A total of 160 participants took part in the training cum workshop among which, 40% are from crop improvement, 33% are from crop production and 27% are from crop protection.
During the Inaugural session of the programme, Dr. A.K. Singh, Director, ICAR-Indian Agricultural Research Institute (ICAR-IARI) highlighted the importance of digital database and advised to make it compulsory for all the AICRIP co-operators to upload data through the Intranet. Dr. RM Sundaram, Director, ICAR-IIRR briefed about the significance of AICRIP Intranet in uniform data receipt and use of this database for use in machine learning and Artificial Intelligence.
The three days' sessions covered an overview of trials and statistical designs in various AICRIP disciplines, viz., Plant Breeding and Hybrid rice, Agronomy, Soil Science, Physiology, Entomology and Pathology followed by demonstration and hands on training on the designs in AICRIP Intranet Portal.  Test data cases along with step wise instructions were shared to the participants in each session. Statistical designs covered in these sessions include RBD, Split plot, Screening Nurseries for pests and diseases. Each demonstration/hands-on session covered data upload, analysis and report generation for the above statistical designs using AICRIP Intranet.
A team of scientists headed by AICRIP PI from each discipline delivered a talk about the gist of trails in their respective sessions and actively involved in the feedback and discussion sessions. E-Manual for different menus and interfaces of AICRIP Intranet was prepared for practice sessions and future reference.
The training programme sensitised participants on various menus and interfaces of AICRIP Intranet for data upload, analysis and reports on major statistical designs used in AICRIP. The following decisions were agreed unanimously by all the participants of the training cum workshop.
Data will be collected as per the AICRIP Intranet template in each discipline
As flowering, panicle initiation and maturity dates vary with treatments, Crop Condition form needs refinement.
Screening Pest form needs refinement to add few more parameters like date of observation, uploaded co-operator name, remarks column, noting not germinated values as NG etc.

Inserting validations to data entry like disease score between 0-9 only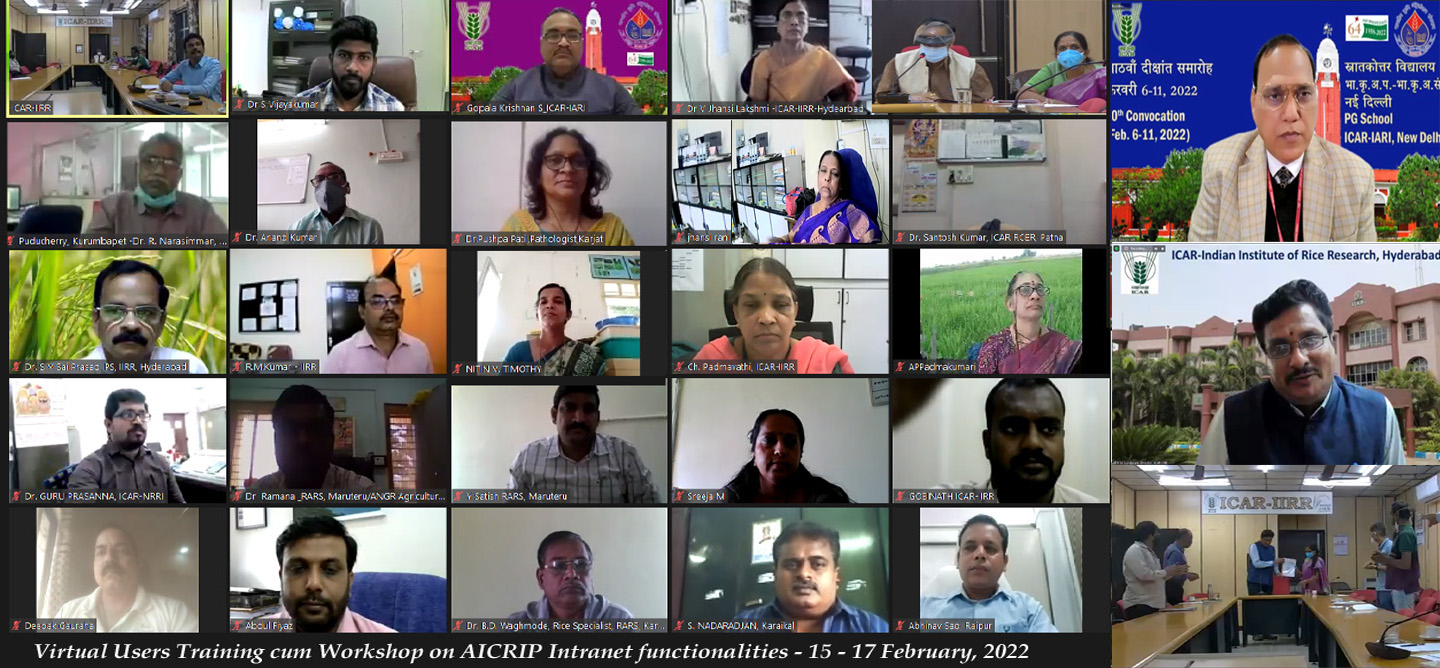 ICAR-IIRR celebrated World Soil Day on 5 December, 2021 at Rudraram village, Ranga Reddy District, Telangana
ICAR-IIRR CELEBRATED WORLD SOIL DAY
            World Soil Day was organised on 5th of December, 2021 by ICAR-IIRR at Rudraram village, Shabad mandal, Ranga Reddy District of Telangana. A team of scientists from ICAR-IIRR belonging to Soil Science, Agronomy, Plant Breeding, Entomology and Pathlogy along with village sarpanch and more than 50 rice farmers were participated in the programme. Soil Scientists of ICAR-IIRR delivered talks on importance of soil day and its theme of the year (Halt soil salinization, boost soil productivity); highlighted the importance of soil health, primary and micro nutrient management, saline soil management, vermicompost preparation and straw management. Other subject scientists explained about newly released varieties with high Zn content and for pest and disease resistance; use of leaf colour chart (LCC) for urea economy; pest and disease management aspects etc. Soil samples brought by the farmers were analysed by rapid soil health testing kit and the soil health cards were generated on the spot and they were distributed to the farmers with proper guidelines on the fertiliser input management. Posters on soil sampling, saline soil management, compost preparation using straw, images of pest and diseases were displayed. 
Employment Corner : Walk-in/Virtual Interview Notification for Temporary Positions at IIRR
Research Associate / Senior Research Fellow / Junior Research Fellow / Technical Assistant / Young Professional I & II Notification 
Project  title: "Evaluation of different bio-stimulants (VALAGRO) crop growth, physiological & bio chemical changes and yield of Rice Crop"
Post: Research Associate  (01 position)
Essential Qualifications: 
M. Sc. in Ag./Life Sciences from a recognised University.
Minimum 5 years' experience in rice field trials.
Desirable:
Minimum of five years' experience in field work related to rice research field, Field management, Statistical analysis of data, Report writing, experience in AICRIP data handling.
Download : Notification  Application Form  
----***----