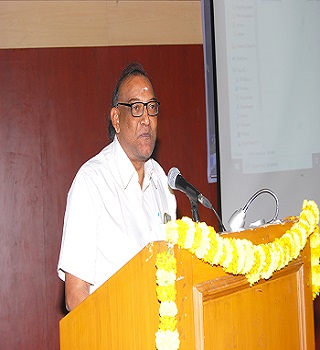 ICAR-IIRR Celebrated 6th IIRR Foundation day on 15 December, 2020
ICAR – Indian Institute of Rice Research (IIRR) Hyderabad, celebrated ''6th Foundation Day'' on 15th December, 2020. Dr.S.B.Barbuddhe, Director, ICAR- NRC on Meat, Hyderabad as Chief Guest and Dr. Arun Shanker, Principal Scientist, ICAR – CRIDA, Hyderabad as Guest of Honour. The programme started with Glimpses of Padmasri Dr. SVS Shastry's video clippings followed by welcome address by Dr. S. R. Voleti, Director, ICAR – IIRR.
Director apprised the participants about the historical progress of the institute from All India Coordinated Rice Improvement Programme (AICRIP) to Indian Institute of Rice Research (IIRR). Director presented the detailed report on the institute activities carried out in the last year  Dr Arun Shanker congratulated the significant contribution of IIRR in terms of development of several rice varieties, production and protection technologies. . Dr.S.B.Barbuddhe appreciated the successful work carried out in IIRR and collaboration work between NRC Meat and IIRR for initiating straw management as new idea in place of burning can be thought of. He also complemented IIRR for release of varieties, donors identified for specific traits for specific purposes followed by publications in high rated journals and new projects from other government and private organizations during this year.
Padmsri Dr. Sishta Venkata Seetharama Shastry memorial lecture on "Strategic Networking for Global Rice Genetic Advancement" was given virtually by Dr D.V. Seshu, Former Global Coordinator. He elaborated about the performance and impact of INGER network , one of the  popular international rice varietal improvement networks and stressed on  updating the networks through genetic cafeteria vs. genetic grocery approach, seed vigor, location specific cropping system trials, water use efficiency etc. for effective use of resources with increased research efficiency to endure benefits to farmers and consumers.